Disclaimer: This blog post was primarily written for my sister-in-law, Jenn, but anyone else is welcome to read on anyway!
In case you haven't heard, we (me, Tony and Ruth) are going to Disney World (!!!) at the end of March 2010 for a family reunion, courtesy of my mother-in-law. We will be joined by Tony's mother, brother, sister and family, and step-grandmother. We are super pumped about this, and as soon as I found out we were going I started doing research about the trip, as did my sister-in-law.
So my sister-in-law went to the library earlier this month and found some books about Disney vacation planning. Inspired by her library research, I went to the library tonight and found this great book:
The Unofficial Guide to Walt Disney World 2010
.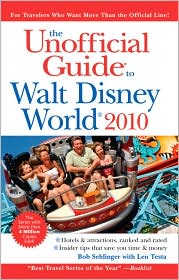 This book is HUGE, and the reason it's called the "unofficial" guide is because none of the contributors works for Disney. This gives it a more unbiased approach. It has opened my eyes to many unknown aspects of our impending Disney World vacation, and I want to buy a copy. If not, I will be making photocopies of many parts of this book for safe keeping! Here are the things I've learned so far:
To get the most out of Disney World, you have to get to the parks early in the morning, about 30 minutes before they open. This can be very early, but it will mean much, much less waiting in line.
We should plan to walk 5-12 miles per day. (I'm going to have to make sure I'm in shape for that!)
Because of the large walking distances and the (hopefully) early-morning arrival at the park, families should plan to return to their room in the afternoon for a nap/break. They can then return to the park in the late afternoon/evening.
"Extra Magic Hours" are available to resort guests, but this book recommends avoiding them. Here is how they work: each day, one park (Magic Kingdom, Animal Kingdom, Epcot, etc.) will be open an hour early or remain open an hour late just for resort guests. While this may seem like a good deal in theory, the park will be extra crowded on this day, making for longer lines. Also, not all of the rides are open during these extra hours, meaning there are a lot of people trying to cram on a few rides. It's better to forego the extra hours completely and visit a different park, which is very likely to be much less busy.

This particular guidebook offers "touring plans" for each of the parks, designed for different groups (just adults, adults with children, mature adults, etc.). These guides often mean a lot of walking and bouncing around the park, but they have been proven to cut ride wait times by 4 hours per day. This allows WDW visitors to visit more rides and spend much, much less time in line (usually only 15-20 minutes per ride). They also eliminate the time wasted by standing around and looking at a map/arguing over what to see next. Jenn, depending on our attitude toward the trip (if we just want it to be leisurely or if we want to get our money's worth [even though we aren't the ones spending the money]), we may seriously consider using these touring plans. The overwhelming response online and in feedback printed in the book is that they really work.
From our resort (Fort Wilderness Cabins) we should expect it to take an average of 45 minutes to get to every theme park via the Disney Transportation System. This does not include the Magic Kingdom, which we can reach in an average of 15 minutes through the water ferry.
Meal plans have received mixed reviews, especially children's meal plans, which have very limited menus (think mostly mac-n-cheese and chicken strips). Even though we have a meal plan, I think it will save us a lot of time, money and hassle if we plan on bringing some food with us. We can then eat some breakfasts/lunches in the park. My family did this when we went to Disney World about 12 years ago, and it really worked out for us.

Our resort has some really awesome amenities, including a lot of outdoor recreation options!!!
FASTPASSES will be very helpful in eliminating time spent standing in line.

In reality, we only have three full days at Disney World. (Do you know our departure and arrival times, by chance, Jenn?) Considering that you need two days to see everything at the Magic Kingdom and another two days to see everything at Epcot, we will have to be aware that we absolutely won't be able to see or do everything. This has the potential to be a stressful, exhausting vacation. However, if we plan it well while remaining flexible, we will have an awesome time.

If the trip does happen to be exhausting/stressful, we just have to remember: We are in Disney World!!!
Let me know what you think, Jenn. If anyone else has read to the end of this post and has any Disney World tips, let me know!
-Meredith